People ask me, "Sheree, what kind of paddle board and outdoor gear do you use?"
As a certified paddle board instructor, and as a live aboard sailor, I know what is comfortable to wear, what works well on the water and what makes me feel more joy in the moments I spend on the water. To me it is all about more time on the water. I created the hashtag #moretimeonthewater to share these moments in my Social Media. I also became an Amazon Affiliate so that whenever you shop through one of my links you are helping to support Sea Dog Eco Tours. This year I am focusing on offering a Family Night Paddle Meet Up for all the families who have bought paddle boards through me and taken lessons with me. I want to give something back. More about Family Night Coming Soon! Sooooo start shopping! I know you do anyway! Click on the banner below or on any of my product review or recommendation links below or in my social media. Thank you ! — Coach Sheree
We Each Steer Our Own Ship and Find Our Own Direction.

Sheree Lincoln
I decided it is nice to share the research! Why should we all be spending hours on the internet or in brick and mortar stores trying to find the best gear, clothing and gadgets when we could be out paddling or sailing (or whatever get outside activity speaks to you? I decided it was time to share the cool things that help us enjoy our lives more, in hopes that they will help you too.  Scroll down for images of the products I like to use. AND… Amazon and other companies I partner with will give me a small percentage for sharing the love. In turn I use that money to buy more cool "stuff" and share with you my favorites…. and so on… You can also see my watercolor and fluid acrylic paintings at www.shereelincoln.com. — Mahalo! Sheree Lincoln.
I am a brand ambassador for Aquabound Paddles. Here is a link about choosing the right paddle and paddle height – click here to visit the Aquabound Site for tips. Think twice before you by a cheap paddle somewhere else that weighs 2 pounds or more! Visit my Aquabound Team Member Bio – click here.
Dry bags are super helpful to bring with you anytime you are on the water.
Did I hear someone say water shoes? I have tried a lot of them and these are my latest favorites!
Paddle Boards on Amazon? I have some brands I like that I can order boards for you directly like Sol Paddle, Body Glove and Imagine. I know that everyone is shopping for a fun deal to try a board cheap on Amazon. My friend Linsday, owner of Vibe Yoga in Fort Myers and Captain Diaz that I do tours with tried the FunWater Boards. They are basic, a great price to get started and have a 1 year warranty. I found another board I liked the looks of at Dog Beach and have included an Amazon Affiliate Link below. I am also including 2 race style 12-5 and 14 boards because for the price these look interesting and the Zrays sold by pool Central are double layer. Double Layer is important if you run into a sea shell or other sharp objects.
The Body Glove Performer Inflatable Paddle Board
Call Sheree for a great deal on the Performer from Body Glove. This 11 Foot inflatable stand-up Paddleboard is stable and 34 inches wide. Sea Dog Eco Tours uses this inflatable on many of our tours and lessons. As you can see it's great for dogs too! We can get you a GREAT PRICE on this board direct from the Body Glove distributor here in Florida with an order of 6 boards shipped directly to you free anywhere in the US.
Open Box Deal with 1 year Warranty from Body Glove. See pictures and info below – scroll down. Minimum Order 6 Boards. Don't need 6? Share you order with a friend.
This board has a performance feature rich design for everyday fitness and family use. Fits in your trunk and stows as luggage on the plane.
It features a patented multi-purpose handle to carry a Paddle or water bottle and includes bungee tie downs on the bow.
Package includes the board, pump, paddle, leash, backpack, repair kit, and cell phone dry bag. The pump is double action which makes it easier to inflate more quickly. Includes 1 year warranty.
Dry Bag Cooler For Paddle Boarding From Permian!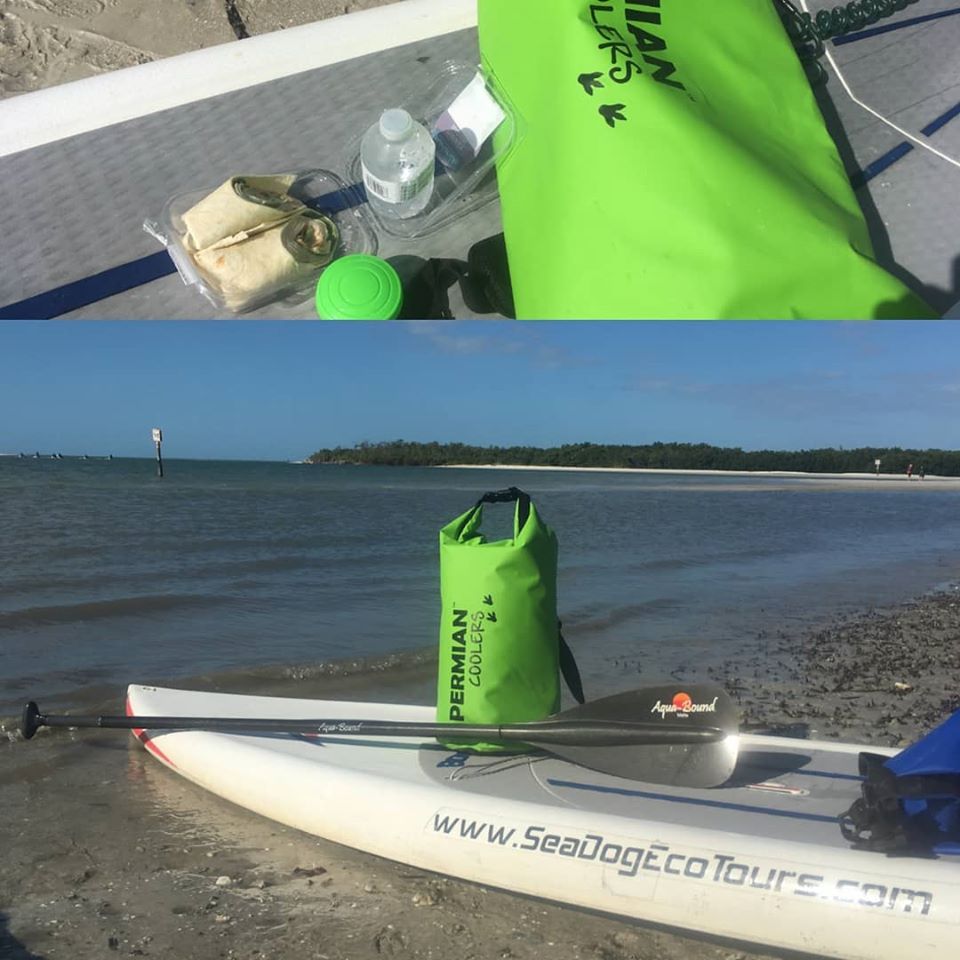 PERMIAN Coolers Portable Cooler Bag with Roll Top, Insulated, 15L – Foldable, Waterproof Dry Bag for Kayaking, Cooler Backpack for Hiking, Leakproof, Floating Cooler. $34.99. Buy some blue re-freezable ice blocks to go with this and you are ready to have a paddle and a picnic. Shop Now – click here.
Looking For Our Into The Emerald Blue Nautical Clothing?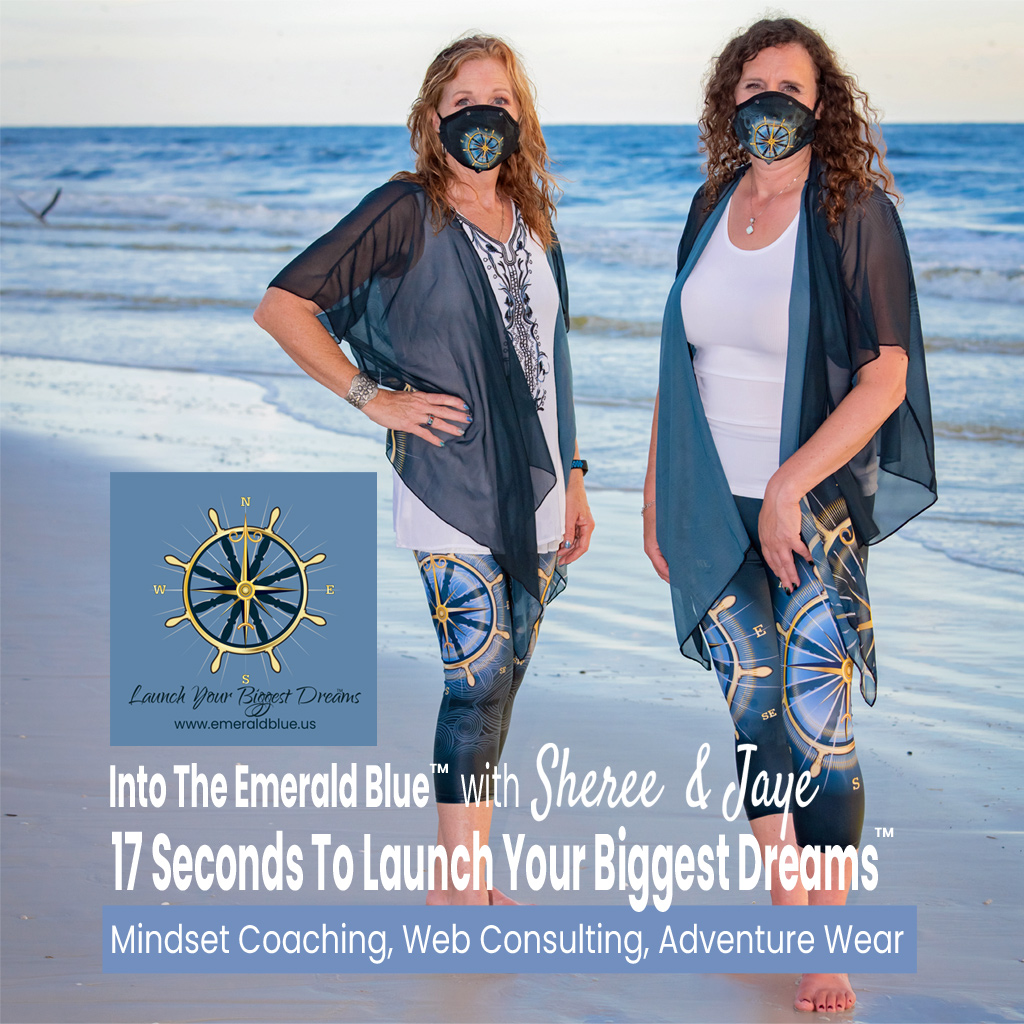 I partnered with one of my best friends to create active wear clothing featuring the Compass Rose. We started Emerald Blue because we are two women who love to travel, live active lives, enjoy being on the water and encourage others to embrace a joyful life.

Shop Here: Into The Emerald Blue Art Of Where Store – click here.

Visit www.emeraldblue.us to learn more about our services – click here.