About Sheree Lincoln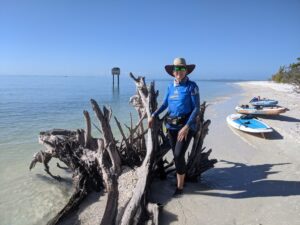 The owner of Sea Dog Eco Tours is the main guide  Sheree Lincoln who is a Certified PaddleFit Pro SUP Coach and a World Paddle Association Certified Level II Instructor Trainer. She has been guiding water adventures and teaching paddle boarding for 10 years as part of her semi-retirement plan.  Sheree is an experienced sailor who grew up sailing in the Midwest on the  Great Lakes and Long Island Sound in Connecticut.  In her early career Sheree worked on Wall Street in NYC and later returned to her native Michigan. She has previous EMT and Firefighter certifications and keeps her CPR & First Aid training current.
Sheree was the co-owner of a Kayak, Canoe & Paddle Board Rental Company called BrassWind Landing Boat Rental LLC which was located on Michigan's Inland Waterway in Indian River, Michigan,  for 8 years,  before opening Sea Dog Eco Tours in Fort Myers Beach, Florida. Her favorite office is on the water so in the winter seasons Sheree started coming to Fort Myers Beach and moved to Fort Myers Beach full time in 2018.  She now lives on a sailboat called SpiritHawk with her husband and fellow artist and retired ShipWright, James Kingsawin Reed. James is also a certified WPA Instructor.
About Kim Hedges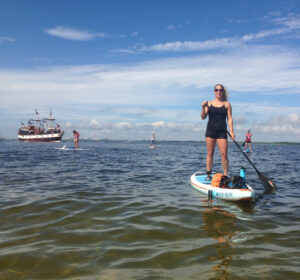 Kim Hedges has joined Sea Dog Eco Tours in 2021  as a WPA certified paddle board instructor.  She came on a tour with Sheree and fell in love with the sport.  Kim guides tours with Sheree during the summer season when she is not teaching 8th Grade Science.  She hails from Michigan, just like Sheree, and together they make a great team.  Kim coaches the Track and teaches 8th Grade Science in Fort Myers.
About Cindy Gibson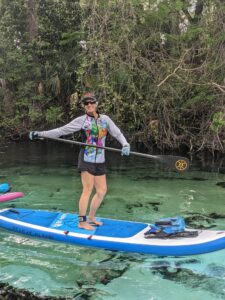 Cindy Gibson joined Sea Dog Eco Tours in 2023  as a WPA certified paddle board instructor.  Sheree  met Cindy through Special Olympics Coaching and at Paddle Board Races.  Cindy will be guiding tours from Dog Beach. Her favorite time to paddle board is at sunset so she will be offering sunset tours and sunrise tours!
About James Reed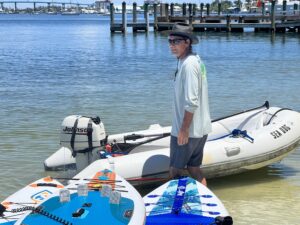 James Reed is Sheree's husband. He is a retired boat builder and shipwright as well as a WPA certified paddle board instructor.  James was born in Alaska and is from the Tlingit Tribe whom are also known as the people of the tides. James has lived on  a sailboat for over 25 years. You can follow the sailing adventures of Sheree and James at www.intotheemeraldblue.com or find them on Facebook @intotheemeraldblue. You can follow the renovations and refit of their boat SV SpiritHawk @sailingspirithawk on Instagram and FaceBook.
About Jodi Ziajka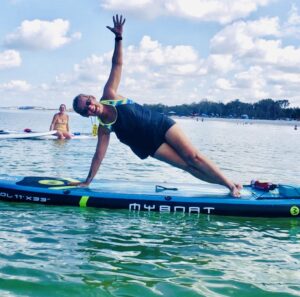 Jodi Ziajka has partnered with Sea Dog Eco Tours in 2023  as a certified paddle board coach.   Jodi owns her own yoga and personal training business and like, Sheree and Cindy, she is a Special Olympics Coach. Jodi offers SUP Yoga Classes with a paddle boarding lesson and exploration time too. She also represents by offering tours in the Naples area.
Certifications