Where is Sea Dog Paddle Boarding Today?
Our Office is Usually Wherever We Are Paddle Boarding! 🙂 From Fort Myers Beach to Bonita Springs. At Sea Dog We Offer Private, Personal Paddle Board Tours & SUP Lessons and Meet Up By Reservation at our launch locations.
Current Paddle Board Tour & Classe Offerings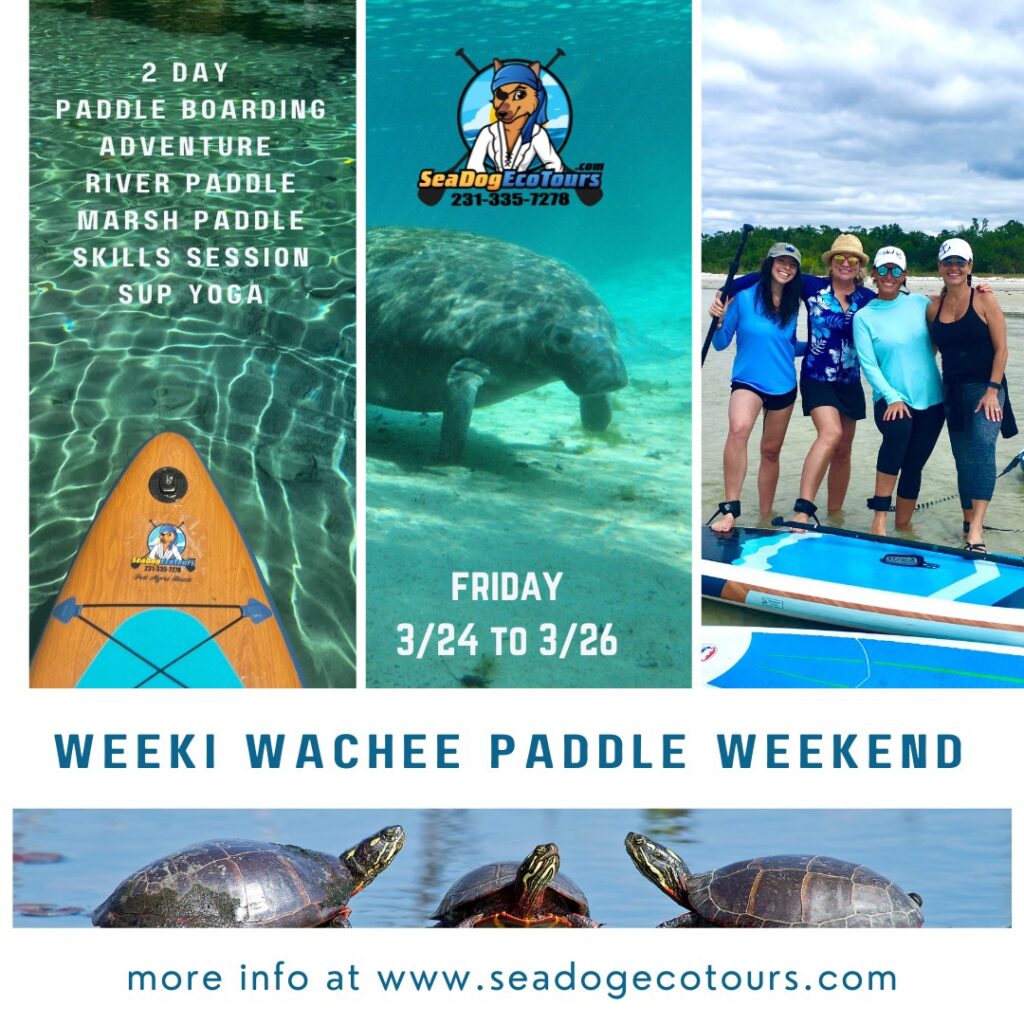 Paddle Boarding Adventure Weekend Paddle Boarding Retreat
Get in the flow and explore old Florida! Join Sea Dog Owner, Sheree Lincoln for a Weeki Wachee Hernando Beach 2 day paddle boarding retreat for women planned March 24-26. Click on Book Now and see the event for details and photos. There are 4 spots left as of 2/23/23
Hurricane Ian Update Re-Opening! Sea Dog Eco Tours is currently offering paddle board instructor certifications and river tours around Fort Myers by request. We will once again offer Mangrove tours on Lover's Key on Dog Beach as soon as the Dog Beach officially re-opens in March! The gulf inlet at Dog Beach is the most beautiful place in our area to paddle with clear water and areas to paddle where powered boats cannot go! To read more about post Hurricane Ian paddle boarding conditions and which launches we will be using for our 2023 tours please visit our blog or Starting March 16th we hope to have our 2023 paddle boarding tour schedule in our booking system.
Paddle Boarding Adventures in Fort Myers Beach & Bonita Springs Dog Beach With Coach Sheree Lincoln
Paddle Boarding is a great way to explore our waterways and meet our wildlife. Our private Tours and lessons are usually just you and your family and friends. A plus one may be possible to add to a tour that already has paddlers scheduled. Looking for Paddle Boarding Near Me in Fort Myers Beach and Bonita Springs? Use our Book Now button to view tour options with photos. Our schedule for Mid March will be added as soon as our Lee County Park Launch Sites re-open.. If you would like to book a private river or canal tour or have questions call owner, guide and instructor Sheree at 231-335-7278 (Yes 231, not 239 (She uses her Michigan cell #)
If you see "Call to Book" in our schedule it is usually because availability may vary based on weather, scheduled tours, lessons or park closures. If we know a day might be iffy for paddling we would rather not take payments that we might have to return so we change it to call to book so that we can plan each tour based on current conditions. We often will hold a date for you so please do not hesitate to call and inquire if you see the call to book on a time slot you are interested in.
New for 2023:
Paddle Board Near Me & Into The Emerald Blue Adventure Blog
Paddle Board Near Me Online Directory is an online directory that we have created to help you find places to paddle board near you around the country. If you know an outfitter that would like a free listing please share the website link as we are building our directory. Visit the paddle boarding directory at www.paddleboardnearme.com
Follow our the adventures of Sheree and her husband James aboard their sailboat, SpiritHawk on the sailing adventure blog Sailing SpiritHawk Into the Emerald Blue at www.IntoTheEmeraldBlue.com and follow @intotheemeraldblue on Instagram and Facebook.
Shop Local: Buy Paddle Boarding Gift Cards or Paddle Boards from Sea Dog Eco Tours. Call Sheree to talk about which paddle board would be best for you. Learn before your buy. Visit our online store to shop for Sea Dog Eco Tours, Fort Myers Beach and FMB Strong SPF Shirts, accessories and gift items. Visit the Sea Dog Shop – click here.
Click Here to buy a gift card from Sea Dog Eco Tours or book or browse our tours. You can also click on the book now button to buy, book or browse our tours with photos and more information about each tour.