Sea Dog Eco Tours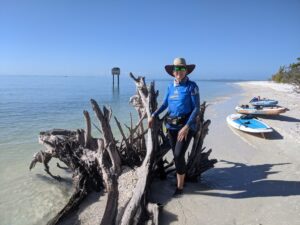 Sheree Lincoln ~ Owner
WPA Level 2 Instructor/Trainer
Certified PaddleFit Pro Coach CPR/AED
Reservations: *231-335-7278
*Yes 231, not 239 (I am from Michigan…)
Website: www.shereelincoln.com
Book now!

Sea Dog Eco Tours Locations

Most tours we meet up at Dog Beach on southern tip of Lovers Key, at Bowditch Point Park at the northern tip of the island or at your own dock (for private lessons). You can also book through AirBNB for our three hour tour.
Sea Dog Eco Tours
Meet Up by Reservation Only
Fort Myers Beach, FL 33931
Days of Operation
Wednesday through Sunday
Day closed depends on scheduled tours & weather – If winds are solid at 16 to 20+ we will close tours for the day. If winds are 4 to 15 with gusts 16 to 22 we may adjust paddle location to be in lee of the islands out of the wind.
We Meet Up By Reservation Only – Online Booking Only Our Office is Wherever We Are Paddling
Dog Beach Launch: Tours will launch at Dog Beach once it opens again for 2023. Uber or Drive to Lee County Dog Beach at 8800 Estero Blvd, Fort Myers Beach, Florida 33931 just North of the New Pass Bridge where we meet in the parking lot on the Gulf side and then walk out to the beach.
Bunche Beach Launch: Tours will be offered from the road end once the Bunch Beach Preserve opens again for 2023.
Matanzas Location: None of our tours launch from Matanzas for 2023.
Bowditch Point Park: None of our tours launch from here for 2023.

Shop for FMB Strong T-shirts Ian Survivor T-Shirts and Sea Dog Eco Tours Fort Myers Beach SPF Shirts in our online store. #shoplocalfmb – click here.