We specialize in introducing people to paddle boarding as well as coaching advanced beginner to advanced paddle boarders. All of our Fort Myers Beach area paddle board trips, lessons and adventures are customized to meet your abilities, vacation needs, the tides (something to learn about since you won't have experienced tidal currents on lakes and rivers) and the weather. All of our private paddle board adventure experiences are designed for one guide for 1 to 4 people. If you have more than 4 people you can call us to plan for your larger group with 2 guides. Please give Sheree a call at 231-335-7278 and she can send you a booking link for your custom paddle boarding experience.
All of our paddle board adventures include safety instructions, directions on how to use our equipment, proper paddle technique and more based on your needs. We will search for sea creatures, paddle, swim if you like and explore. If you want more lesson time then your wish is our command. The Dog Beach guided paddle at the Lee County Bonita Springs Dog Beach is dog friendly and can be enjoyed with or without bringing your dog! We offer 1-1/2 hour and 2 hour tour and lesson sessions. Our tours are kid friendly too for ages 3 and up.
The best days to paddle are when the wind is calm or ranging from 6mph up to 13 mph allowing for gusts from 14 – 20. Over 21 mph gusty days we will be closed and reschedule your tour or arrange for gift certificate. Please take a look at the predicted weather when you are choosing a day for your tour. We suggest choosing a day to paddle earlier in your vacation so that we can reschedule if needed to accommodate the weather. All bookings paid for online, in advance, as we cannot take cash or reservations at the park locations.
Dolphins, Live Shells to Learn About, Manatees, Pelicans and Dogs Oh My!
You may choose from a variety of stand up paddle board adventure launch locations with eco tours, lessons and instruction in the Fort Myers Beach area, Lovers Key, Bonita Springs, and Naples, Florida. Owner and Paddle Board Coach Sheree Lincoln is double certified to teach paddle boarding. She is a World Paddle Association Certified Level II Instructor Trainer (This means she certifies other instructors to teach paddle boarding) and is a a PaddleFit Pro Coach. Our Guides Cindy, Jodi and Kim are all WPA Certified Isntructors. Questions, please text or call Sheree on her Google Voice Reservation Line at 231-335-7278. Yes, it is 231, not 239…kept Michigan mobile number 🙂
We Offer Personal and Customized Stand Up Paddle Board Tours, Lessons and Training in Fort Myers Beach and Bonita Springs. The Book Now Button will let you book or browse Paddle Boarding Adventures #1 thru #7 where we share photos and more details.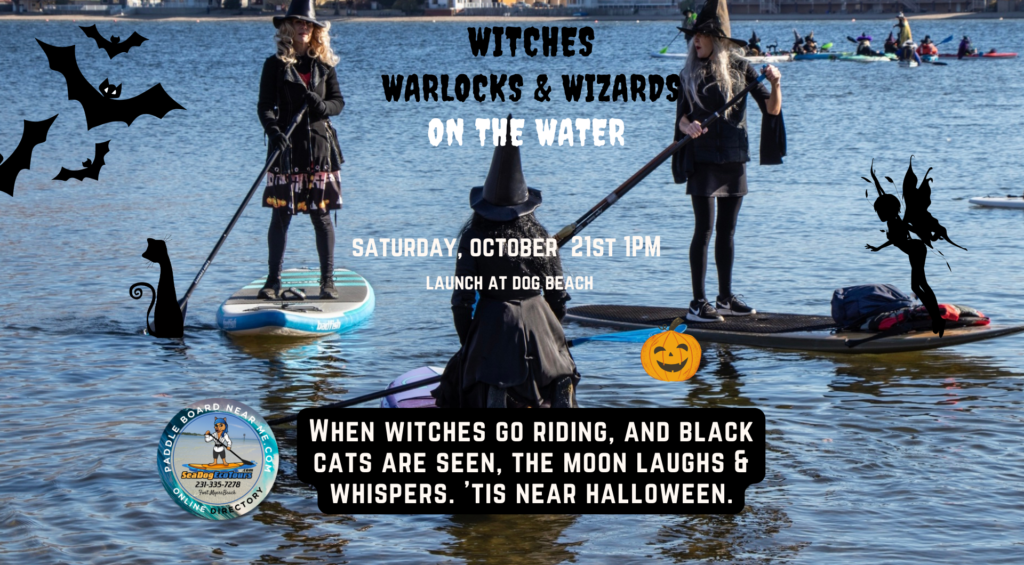 Book Witches, Warlocks & Wizard Paddle Parade online now! This is a free meet up event if you have your own paddle board. You may also reserve a paddle board for the parade with our without a lesson (before the parade), register for free and purchase a Witch's Parade T-Shirt. Part of the proceeds will be going to the Otsego Bay Marine Foundation.
We have also included additional ideas for your paddle boarding adventure experience in the list below. Please call or message Sheree to plan any of the other adventures, to adjust tour size to match your group and plan for youth paddlers for appropriate board and paddle size or to let us know you want to bring your dog. You may also purchase gift cards or leave our guides a tip by clicking on Book Now.
Lover's Key & Dog Beach Paddle: This tour of the Estero Bay Preserve Gulf Inlet launches from Dog Beach on Southern tip of Lover's Key just North of the New Pass Bridge. We paddle among the beautiful shallows in search of marine life with our Guide Cindy. This is a dog friendly tour and you may bring your own dog just let us know. 2 hours $85
Sunrise or Sunset Paddle at Dog Beach. Paddle board as the sun sets over the New Pass Inlet and the Gulf of Mexico, the colors come alive and the essence of the water is enhanced and brings peace to the end of your day. Relax with friends and family on this small, personal paddle boarding experience with our guide Cindy. 2 hours $85.
Clam Pass Naples Paddle Adventure launching from Clam Pass Park, Naples. Paddle along this natural waterway located in North Naples. We will be paddling, birdwatching and looking for sea creatures on the flats and along the mangroves. Saturday Mornings with some Sunday Morning Availability with our Guide Jodi. 2 hours $85
Isle of Capri Naples Paddle Adventure launching from Capri Paddlecraft Park. We will be paddling, birdwatching and looking for sea creatures on the flats among the mangroves with our Guide Jodi. 2 Hours $85
Delnor-Wiggins Paddle Adventure launching from the State Park at Wiggins Pass in North Naples. We will be paddling, birdwatching and looking for sea creatures with our Guide Jodi. If it is calm we may go out on the Gulf. 2 Hours $85
SUP Yoga & Paddle Board Lesson Adventure Paddle Boarding lesson with SUP Yoga Session and paddle and explore time with Certified Yoga Instructor Jodi from Buddha Voodoo. Call Sheree if you would like to plan a yoga session at your own beach or dock. 1-1/2 hour $65 or 2 Hour $85 with your own board $55.
Get Certified to Teach Paddle Boarding. This World Paddle Association (WPA) certification class is available as a 1 day or 3 day class. All classes include study time at home bookwork with a minimum of 5 hours of on the water training depending on your level of experience paddle boarding and as a coach. $295 for semi private – $395 for 1 person 1 day private class. Read more about getting SUP Certified on our Get SUP Certified Page – click here. Call Sheree to plan a custom date or multi day training.
Paddle & Explore Natural Beach Preserve. Launch from beach at Bunche Beach Preserve. Explore the shoreline, tide pools and mangrove tunnels. $85 for 2 Hour and $65 for 1.5 hour adventure includes $5 park launch fee. – Not available until January 20th, 2024.
FUN in THE SUN Tip of the Island Paddle at Bowditch Beach Park – Not available since Hurricane Ian.
FMB Inner Harbor Tour – Launching from the Matanzas Inn on the Canal. Not available since Hurricane Ian.
Lesson with Board rented from other Water Sports Company Add on a Lesson on Fort Myers Beach. $50 semi private 1 hour. $100 for 2 Hour Private Session. Call Sheree.
PaddleFit Conditioning Classes & Cardio Work Out on Paddle Boards: 1 hour. Price depends on size of the group, location and if you have your own boards or not. $25-$50.
PaddleFit Challenge: Try your hand in a friendly competition by paddling 50 meters around a marker including mountain climbers, crunches, bear crawls and more cardio activities both on the board and on the beach. Price depends on size of the group, location and if you have your own boards or not. Book any tour and request the PaddleFit Challenge. $25-$50 depending on group size. 1 Hour workout.
Race Training: Advance your paddle technique for racing: We have experienced paddle board racers on our team, certified to teach the techniques you need to win. Private Training $100 for 2 hours.
Custom Paddle Board Adventure Available. Give Sheree and call to make a plan.