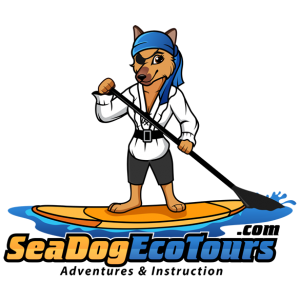 Welcome to Sea Dog Eco Tours in Fort Myers Beach, Florida. Parlay with our owner and Certified Paddleboard Instructor, Sheree Lincoln, for guided paddleboard tours in the Fort Myers Beach area with coaching & instruction, lessons, SUP Yoga and more. We are open all year by reservation.
One of our most popular stand up paddle board tour is the Matanzas Harbor Paddle with an introduction to paddleboarding lesson or tips and techniques for more advanced paddlers. We launch from just down from Matanzas on the Bay, behind the pool from the floating dock and then when you are ready, we paddle out to the sand bar or shallows to explore the beautiful back bay. You can see sea creatures, like Manatee and Dolphins, the largest Shrimp Boat Fleet in Florida, a pirate ship, sail boats, yachts and more.
We also have a bar hopping tour from Matanzas on the Bay to the Nauti Parrot Dock Bar as well as pet friendly paddle adventure at the dog beach located at the southern end of Lover's Key at the New Pass Bridge on Estero Bay in the Estero Preserve. This is a great place for you and your dog to paddle, or just enjoy watching everyone else's dogs at play. The water is clear and the beaches are beautiful. The view of the gulf through the pass by Big Hickory Island is Gorgeous.