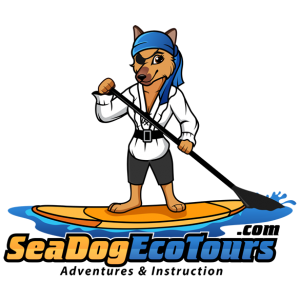 Welcome to Sea Dog Eco Tours in Fort Myers Beach, Florida.  Parlay with our owner and  Certified Paddle Board Instructor,  Sheree Lincoln,  for guided semi-private paddle board tours in the Fort Myers Beach area with coaching & instruction,  lessons,  SUP Yoga and more. Paddle Boarding is actually a great way to maintain social distancing since keeping a distance between boards makes it much easier to paddle! Tours and lessons are private or semi-private for 2 to 3 people and on Thursdays and Sundays up to 6 people. We re-opened June 1st.* Use our Book Now button to view tour options and then call to book. We hope you will be able to visit us in the near future and that you, your friends and family stay safe during this difficult time. We do not maintain a paddle board shop as we meet up by reservation at various launch locations. *Please note we will be doing paddle board tours in Michigan from July 2nd – July 20th, 2020 so that we can reconnect with friends, family and clients there after this long stay-at-home time in our lives. Can't wait to paddle with you all! — Mahalo, Sheree
Shop Local: Buy Paddle Boarding Gift Cards
Click Here to Shop or click on the book now button to shop or view.
One of our most popular stand up paddle board tour is the Matanzas Harbor Paddle with an introduction to paddle boarding lesson for newbies or tips and techniques for more advanced paddlers. We launch from just down from Matanzas on the Bay, behind the pool from the floating dock. When you can turn, stop, paddle forward and avoid running into anything we paddle out to the sand bar or shallows where the water is clear and explore the beautiful back bay. You may see sea creatures, like Manatee and Dolphins,live shells, fish, turtles and the largest Shrimp Boat Fleet in Florida, a pirate ship, sail boats, yachts and more. This 1 1/2 hour tour is offered at 10am, 12pm or 2pm daily for 1 to 3 people with other times by special arrangement. Thursdays and Sundays we can accommodate 6 people for our tours.
One of our favorite, most beautiful and happy tours starts at Bonita Dog Beach located at the southern end of Lover's Key just north of the New Pass Bridge in the Estero Bay Aquatic Preserve.  Paddle the gulf inlet, the waterways among the mangroves, explore the beaches in search of sea shells, watch for manatees, dolphins, roseate spoonbills & other sea birds and enjoy interacting with the dogs at play.  This 2-1/2 hour adventure is dog friendly and your dog is welcome to come paddle boarding too. The water is clear and the beaches are beautiful.  The view of the gulf through the pass by Big Hickory Island is gorgeous and exploring Lover's Key is serene. This, and the Bowditch Point Tour is one of the best trips for bringing a child along on, 8 and under are free if they ride with parent or with me. 9 year olds and up usually want and require their own board based on weight and we offer a discount for them. Give me a call and we can come up with the best plan for tours with kids.